2020 plans from our annual meeting
Our annual meeting was held August 24 - great discussions and input to this year's plans. Thanks to all the lake members who came out. Water testing results were discussed in detail and the Goose Action plan hand out was available to all. * Board report and plans in the 2019 Annual General Meeting Minutes
An adult goose can produce as much as a kilo of poop every day, and those droppings can contaminate our water - and your property. We've created an action plan for the lake to minimize the damage.
Best thing to do is naturalize your shoreline. If there is no access to your lawn, they won't stay.
We'll be delivering copies of the Action Plan to lake owners with lawns at the water's edge who haven't put up goose barriers.

Une bernache adulte peut produire jusqu'à un kilo de caca tous les jours, et ces excréments peuvent contaminer notre eau - et votre propriété. Nous avons créé un plan d'action pour le lac afin de minimiser les dégâts.
L'accent est mis sur la naturalisation de votre rivage.
Nous allons remettre des exemplaires du plan d'action aux propriétaires.
The Association tests samples of water from the Lakes for phosphorus, nitrogen and E-coli on a regular basis. Volunteer and Lake Association member Carole Doré has collected samples for testing for over 10 years. Say Thank You when you see her!
2019: Water testing results are in - E-Coli is a bit higher than previous years and there are some phosphate concerns.
Keep our water clean. We pulled together a handy sheet of tips to share and delivered them dock to dock in 2018. Share them with your renters - binder page version available.
Some years, invasive Eurasian Milfoil forms a dense carpet on the lake's surface, crowding out the indigenous plant species and harming fish. It was brought in on someone's boat or fishing equipment. Each tiny piece broken off by waves or boats can turn into a new plant.
*** 2019 *** Overall milfoil levels are lower than other years, likely due to the cold wet spring and high water levels through July. Buoys were not placed as those areas did not have weeds thick and high enough to reach boat motors this year. Native weeds have returned in many areas. That said, there is still lots of milfoil - do cut and most importantly, remove the cuttings.
The map shows all inlets and outlets into the lakes. Lots are marked. Water testing locations are marked.
Join the Association to help fund water testing, protect the quality of our water, get updates on water quality initiatives and contribute to Association activities like placing buoys to alert boaters of heavy milfoil weed areas.
See About the Association for previous meeting notes/minutes, financial reports, board members and objectives
Join or renew your membership:

Renew by sending $10 to info@lacnotredame.org via e-transfer with password: water, we will email an acknowledgement
Mail a cheque with the membership form to Lac Notre-Dame and Usher Lake Association 170 Chemin du manoir, La Pêche, QC, J0X 1A0
Members will receive 2-3 emails per year from association@lacnotredame.org - to get the emails, join us, or if you already joined, check your junk mail/spam to make sure the email didn't end up there.

The lake dragon on Chemin du Domaines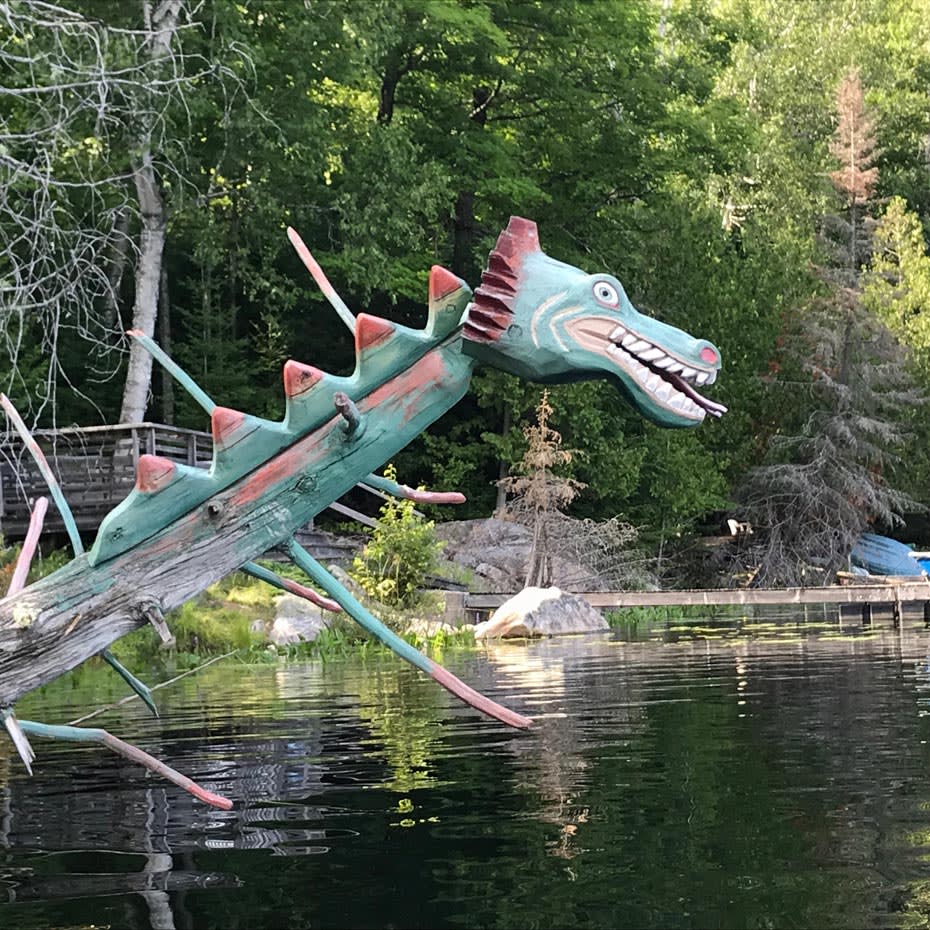 Date modified: