Canada Goose Action Plan
At our meeting in August 2018, we shared concerns about the growing flock of Canada Geese on the lake. In addition to their mess on our docks and rafts, geese can introduce e-coli into the water. Here's what we will do:
The Association tests samples of water from the Lakes for phosphorus, nitrogen and E-coli on a regular basis. Volunteer and Lake Association member Carol Doré has collected samples for testing for over 10 years. Say Thank You when you see her!
2018 Update: August 13th water chemistry tests showed high e-coli in one sample at location 6 and at Usher inlets. E-coli results were back to normal a few days later when a new set of samples were tested from a range of points around location 6 in front of Generations & Symons. Nitrogen and phosphate levels are normal. Water clarity tests show a return to our more usual clarity levels of above 5.0 metres.
Very low levels of Eurasian Milfoil in the lake in early August, and by mid-August, the area marked by buoys has almost no milfoil at all - native plants have re-established themselves there.
Keep our water clean. We've pulled together a handy sheet of tips to share and are delivering them dock to dock this summer of 2018. Share them with your renters - binder page version available.
Some years, invasive Eurasian Milfoil forms a dense carpet on the lake's surface, crowding out the indigenous plant species and harming fish. It was brought in on someone's boat or fishing equipment. Each tiny piece broken off by waves or boats can turn into a new plant.
The map shows all inlets and outlets into the lakes. Lots are marked. Water testing locations are marked.
Join the Association to help fund water testing, protect the quality of our water, get updates on water quality initiatives and contribute to Association activities like placing buoys to alert boaters of heavy milfoil weed areas.
The lake dragon on Chemin du Domaines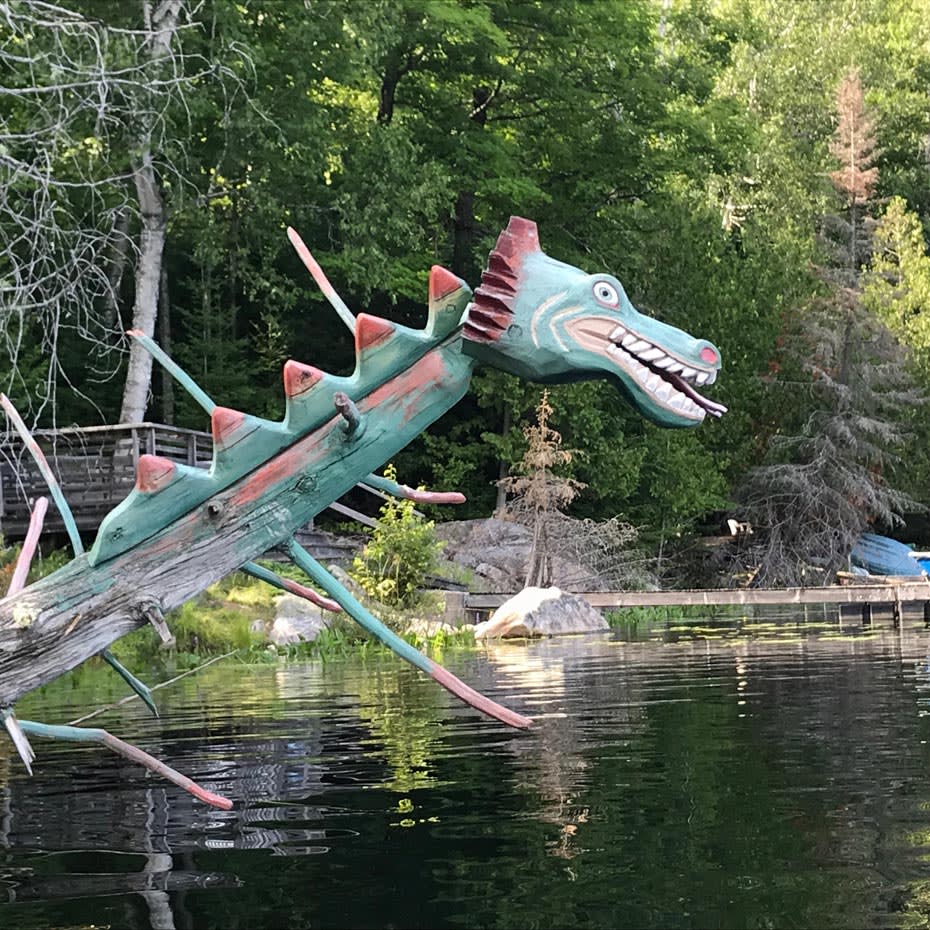 Date modified: